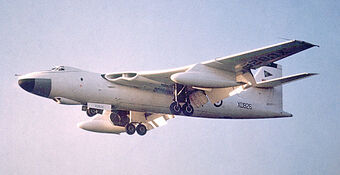 The Vickers-Armstrong Valiant was a british for-jet bomber and was once part of the V-Bomber nuclear force group (V-Force) in the 1950's and 1960's. Its Manufacturer was Vickers-Armstrong.
Its main two roles were as a nuclear/conventional bomber as well as its capability to be refitted into an aerial tanker.
Before its retirement in 1965 it saw some combat but not nuclear combat, out of the three V-Bombers, this was the first to see combat in Operation Musketeer in November, 1956.
Before it retired, 107 Vickers Valiants were produced.